30th January 2008 at 11:06 pm
#6682
Ron750M1
Participant
for this topic, I really should post something. Thanks for putting it up Doug.
Well, I'm a Yank. lived around the Washington, DC area most of my life, but really need to get away from this hyper-politicized area…can't even comment on the weather w/o getting into an argument about cow farts destroying the world. 👿
I'm basically an old hippie. Started to ride a bike when I was in my 30's, a Yammy 250 twin. My brother bought it and told me if I fixed it, I could ride it. I fixed it and he sold it 😯 🙁 😕 A buddy then sold me a Honda 550 twin, in rideable, but really rough condition, rode that until the late '80's. It ended up getting nabbed by the cops, for not having current tags, eventhough it was parked in a paid for parking space @ my apartment (flat). I later found out that the cops can come on to private property and sieze vehicles that are not properly tagged, even if the vehicle is covered 👿 . Finances improved and a coworker said he had a Kawasaki in his shed, he wanted to get rid of, and I could pay in installments. Turned out it was an 82 KZ750 M1 (CSR). I don't know how long it had been in the shed, she was only 10yrs old, at the time, my coworker was 2nd owner, but w/ a little tinkering, new gas and a jumpstart, I got her going and she actually passed inspection :D. I rode her until around 96 when she needed some work, I got married and she sat :(. Spent 2 yrs in the elements then I moved and she spent another 10 yrs gathering dust and rotting, in the garage. 2yrs ago, I got tired of my wife and others telling me to get rid of that piece of junk in the garage, I started my mid-life crisis :?, my stepdaughter got a Suzie thumper, her husband got a hardly and I started taking a mild anti-depressant to help quit smoking. 🙄 Wife was gone for the day and when she got back the "piece of junk" was disassembled all over the garage 😈 my side and hers 😉 . It took about 6 months before she was cleaned, painted, running and resembled a working bike. It took another yr and some change to get the carbs to work right w/the pods but now just have a few details to take care of. I had a lot of help from guys from KZr as well as the guys from Ibsens, KZ twins forum (they put me onto figuring out the carbs). As I mentioned when I made the request for an intro topic, I found the Lonesome twin site after she had pretty much gone under and was about ready to give it up, as a lost cause, when Peter (whipkwakaway) told me to stick around as there was something in the wind 8) . I came over, pretty much in the first wave, but havn't posted, trying to get "a feel" for the group.
I'm not a real "motorhead", I just like to ride a bike and feel the wind on my face…since "the state" won't let me feel it through my hair 🙁 , what's left of it :lol:. I don't know a lot about other bikes but have learned quite a bit about the Z750 M1. This will be the first season that she's running like she's been reborn 😀 8) .
'82 KZ750 CSR, M1 twin, slightly modified.
Mac 2-1 exhaust, K&N pods, 17tooth drive sprocket, Mikuni BS34 carbs w/#47.5 pilot jet and #125 main jet, (I think I can drop the pilot and main jets a size) Canadian XS650 (BS34) needlejet/jet needle, '80 KZ750 LTD swing-arm and rear/front Mag wheels, coil repower mod.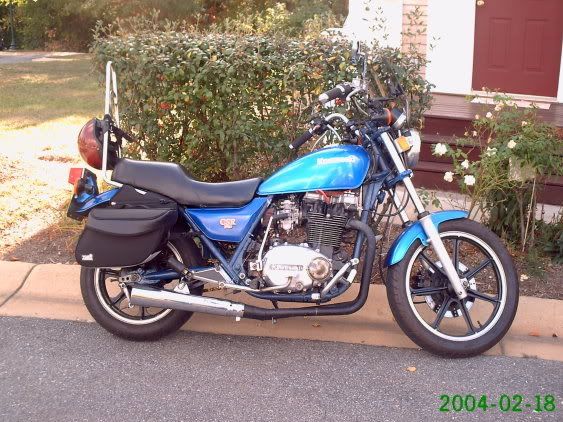 Sorry I've been such a "motormouth" 😳 😀

Ron